TERESA WENNBERG

I N S T A L L A T I O N S



THE INTIMATE BOX
(with Ignacio Casanovas)
Minotauro, Barcelona 1976
***


LE TOMBEAU D'UN CHIEN
Galleriet, Stockholm 1978
***

LES CLOCHARDS
Slideshow + sound
"Feminie", Unesco, Paris 1978
***


LINES & POINTS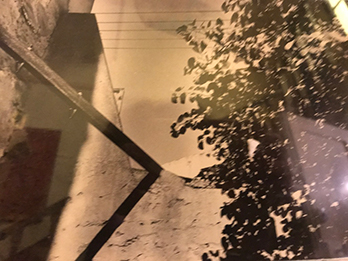 Photo exhibition + performance
Galerie Horizon, Paris 1978

"Une Autre Photographie" Maison de la Culture, Creteil 1981
***

NUIT BLANCHE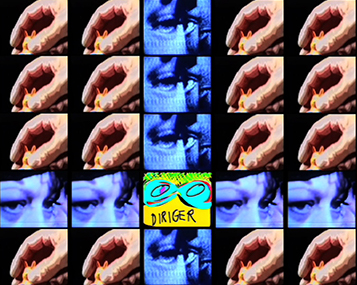 View from the video installation "NUIT BLANCHE"
25 monitors - 4 different sources.
An experimentation with various visual instruments of the time:
slowscan Alcatel, the 2-D computer graphic color palette X-Comm Graph8 with an Apple 2C,
Time Base Corrector (TBC), text generator.
This installation also exists as a mono tape

In collaboration with Pierre Lobstein
Sound: Armand Miralles
"Electra", Musee d'Art Moderne de la Ville de Paris 1983-84
"Art New Vision", Seibu-Shibuya, Tokyo 1986
***

CURIEUX COMBAT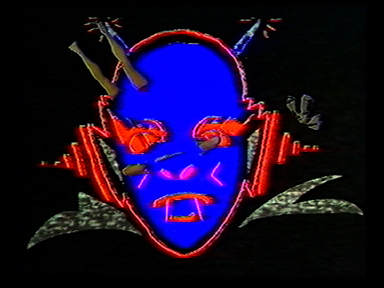 In collaboration with Pierre Lobstein

"Art et Technologie", Albi 1984




***



ELECTRONIC SACRIFICE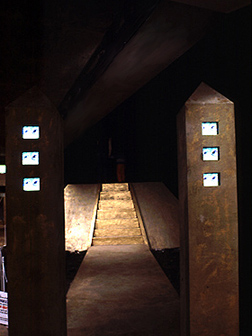 View from the installation "Electronic Sacrifice"


In collaboration with Pierre Lobstein.
Sound: Mans and Pal Wrange.
"Video Sculpture", A.R.C.A. Marseille 1985
"Video Art Video", Kulturhuset, Stockholm 1985
***

LIBERTY - LIEBER TV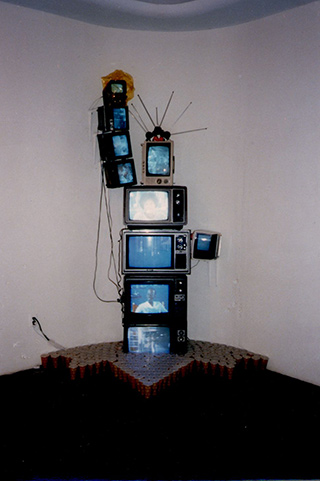 Multi-media installation
"Golden Door", White Columns Gallery, New York 1986




***


OBLIVION POND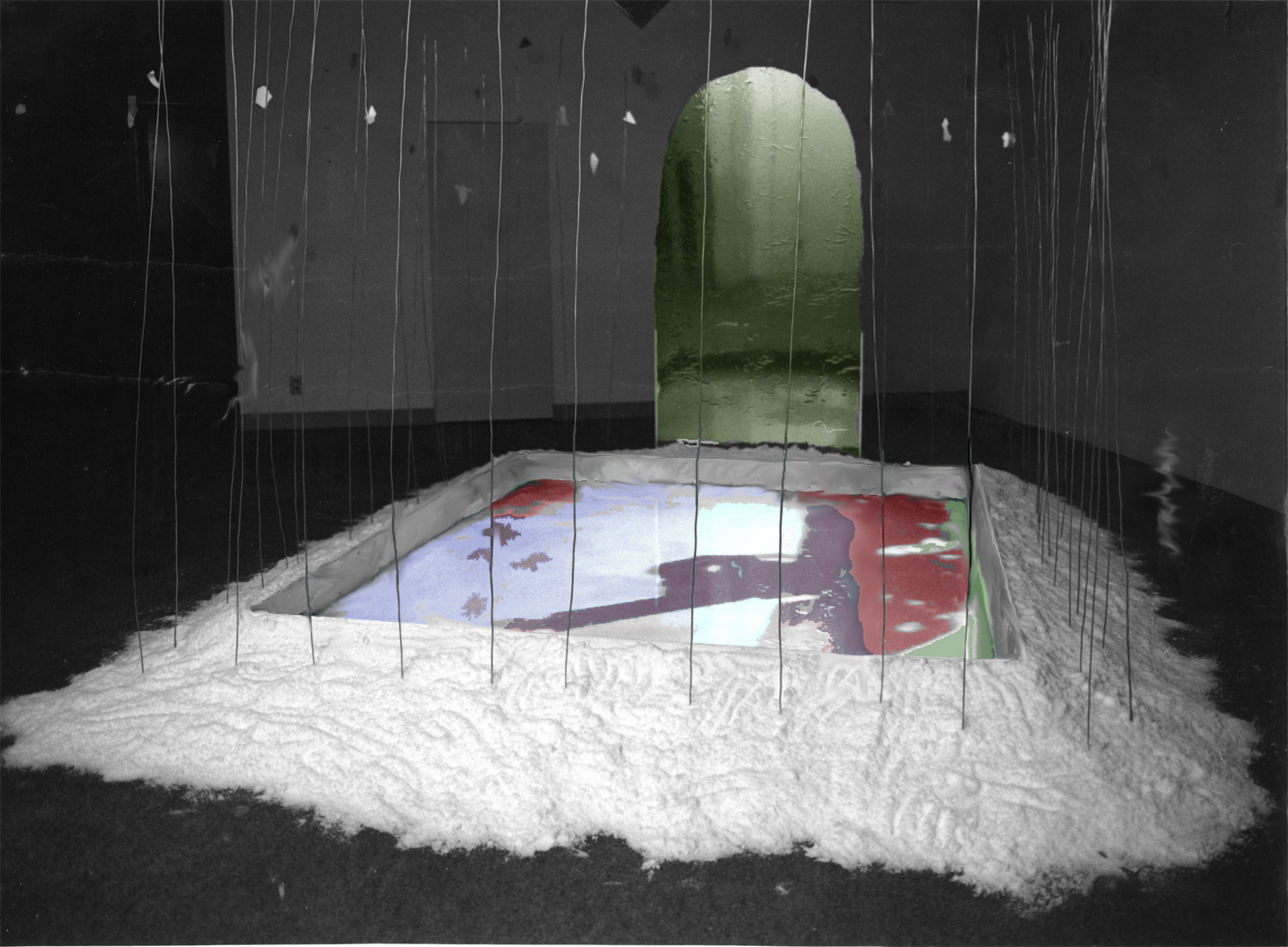 View from the installation
"Oblivion Pond"
at Hara Museum
Hara Museum of Contemporary Art, Tokyo 1987
Forum, Parvis II, Tarbes 1988
***

MANNAZ

View from the installation "Mannaz"
Song: Lénaďc Gicquel
Exhibition "La Salamandre", Musee de Berry, Bourges 1988

Text: Severo Sarduy "Les destructeurs de symétries"
***

HAGALAZ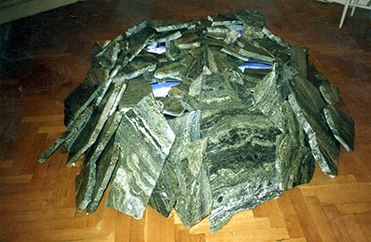 Multi-media installation with four TV-monitors
and marble blocks from Kolmarden
at Konstforum, Norrkoping 1989



***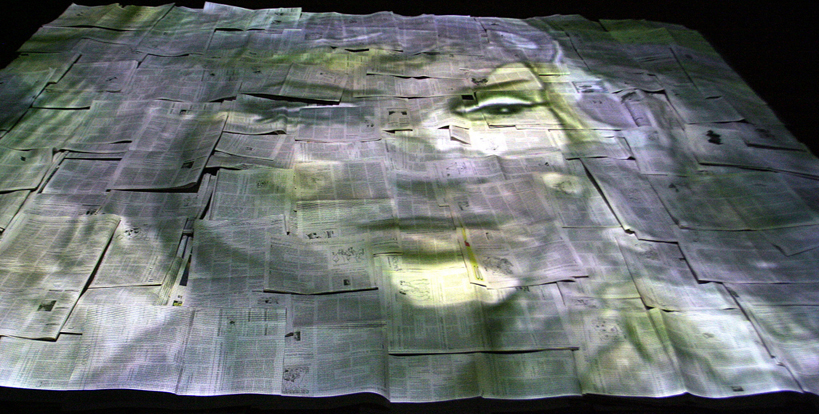 Partial view from the multi-media installation
"Etat d'Urgence"

"L'Amour, La Mort, La Guerre", C.A.C, Montbeliard 1990
Museo de Arte Contemporaneo, Santiago de Chile 2004
***

ALPHABET UTOPIQUE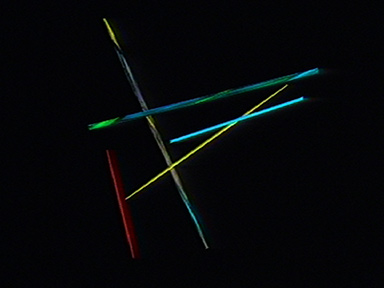 "Digitala Drommar", Norrkopings Konstmuseum 1990
"Digitala Drommar", Sandvikens Konsthall 1990
"Video Art Plastique", Herouville-St. Clair 1990
ARCO, Madrid 1991
Galerie Domicile, Ivry 1991
***
Partial view from the multi-mediainstallation
"Star==Dust"

Liljevalchs museum Stockholm 1992
Museo de Arte Contemporaneo, Santiago de Chile 2004
***
Partial view from the multi-media installation
"Justice"

Centre International d'Art Contemporain Château Beychevelle.
1993
***
Partial view from the multi-media installation
"Hatter's Time"

"Dream Science -96", Kogakuin University Tokyo 1996
Museo de Arte Contemporaneo, Santiago de Chile 2004
***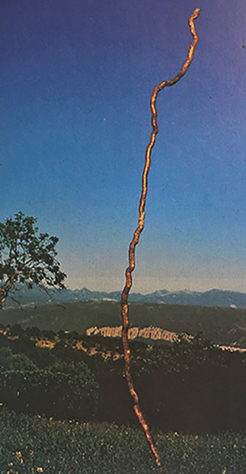 Chateau de Mallefougasse 1994

***

An installation for 3-D computer animation,video, granite sculpture and salt.

Norrtalje Konsthall, Stockholm 1995




***



DIGITAL RUNES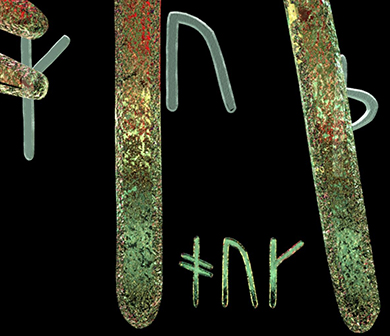 Multi-media installation

Swedish Embassy, Tokyo 1997

***

ELUSIVE SELF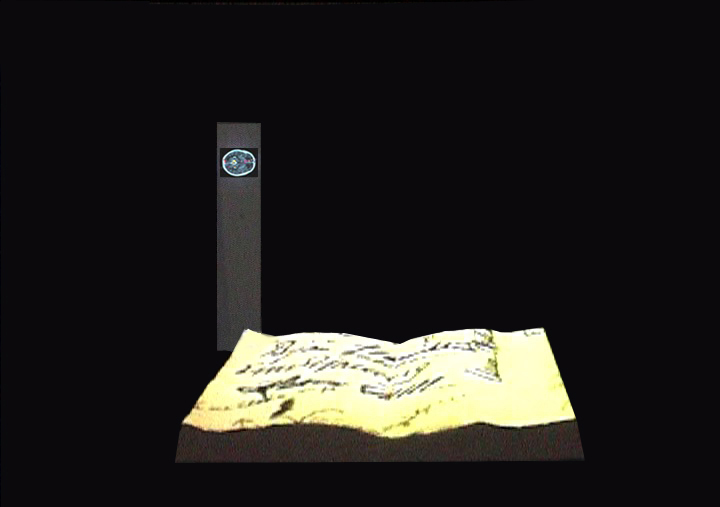 View from the installation
"Elusive Self"
as seen at the exhibition at Kulturhuset, Stockholm 2002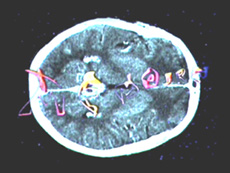 "Tanken Flyger", Kulturhuset, Stockholm, 2002
Museo de Arte Contemporáneo, Santiago de Chile 2004
Husby Konsthall 2017
***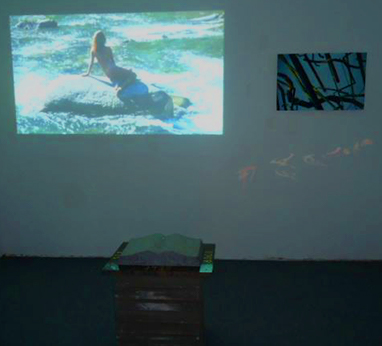 Multi-media installation

Arkivhuset, Smedjebacken 2013
***
AMNESIA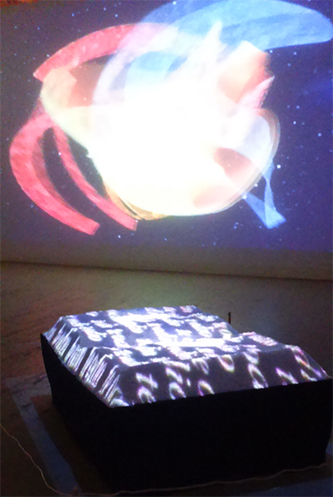 Multi-media installation
Husby Konsthall 2017

FRONT PAGE
All images and texts on this site are protected by copyright and may not be reproduced without permission.©TW