Text: Lars. O. Eriksson Dagens Nyheter, 2/3 1991.
"Exemples d'Arts Electroniques", Galerie Ghislave, Paris 1991
***
4U2C - ILLUSION D'UN MONUMENT 1991-92
View from the 3D computer graphic animation

"Wennberg is trying to alter the brimming 3D.
The richness of the surfaces is due to the "mapping" procedure,
in which she is particularly interested: transparencies,
semi-transparencies, granulations, smoothness, surfaces
resembling the design of a stone or of bark,
it's the fusion between the sculptor and the painter.
venturing a step into the digital world."
Jean-Yves Barbichon, Ars Technica 6/9 1992.
Production: Ministere de la Culture, Delegation aux Arts Plastiques
Delegation au Developpement et aux Formations
Le Fresnoy, Cinaps - Grand Canal Video - XIS,
Musee National des Monuments Français
Music: Remi Chatton


***

ABSTRACT HEAVEN 1992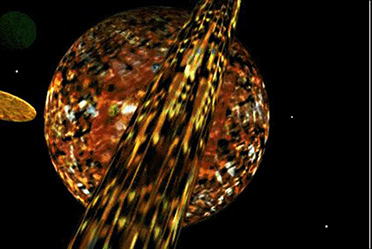 A 3D animation initiated at the GAMSAU
laboratory of the School of Architecture of Marseille.
(Explore/TDI/Silicon Graphics)
***

DOUBLE ALPHA 1993-1995
Extrait from the computer graphic animation
"AMNESIE"
- a ballet of manually animated letters
forming from time to time the word "amnesie"
Part I "MEMOIRE" 1993 ( 3') - loop
Part II "MNEMO" 1994 ( 1') - loop
part III "AMNESIE/AMNESIA" 1995 ( 3'15") - loop
3-D computer interpolation & animation (Explore/Silicon Graphics)

PRODUCED WITH SUPPORT FROM THE ARTS GRANTS COMMITTEE SWEDEN
and FRAC/PACA FRANCE
***

DIGITAL RUNES 1997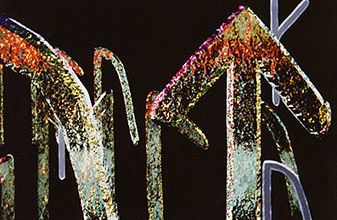 Still from the 3-D computer graphic animation

The ancient viking runes are coming alive,
moving from the carved stone to a digital existence
(Alias Wavefront/Onyx2)

PRODUCED WITH SUPPORT FROM FROM EVA FRIIS MULTIMEDIA GROUP/ SCHOOL OF ARCHITECTURE
PDC-KTH STOCKHOLM
and THE ARTS GRANTS COMMITTEE SWEDEN