TERESA WENNBERG



V I R T U A L R E A L I T Y
THE ROYAL DEMO (1997)
A presentation of Virtual Reality for the first inauguation
of the VR-Cube at the Royal Institute of Technology
in Stockholm in 1997.
THE PARALLEL DIMENSION (1998)
A spatial voyage into a virtual body.
We move inside a virtual microcosmos
through dwindeling nerves and visit
six different locations:

The Brain Chamber - The Heart and Blood Room
- The Breathing Cathedral - The Thought Cabinet
- The Flesh Labyrinth - The Dream Cavern


Interactive sound by Peter Berggren

(Software for this piece: Alias-Open GL
Animations & Calculations: Vega/Lynx)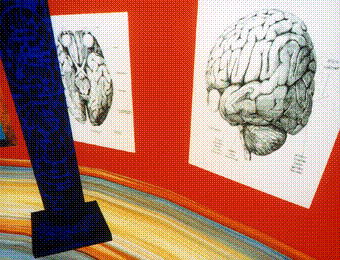 View from "The Parallel Dimension - Brain Chamber"

The Parallel Dimension was produced by PDC, KTH Stockholm
presented at the VR-Cube of the Royal Institute of Technology as a part of Stockholm Capital of Culture 1998
BRAINSONGS - W E L C O M E T O M Y B R A I N
2000-2001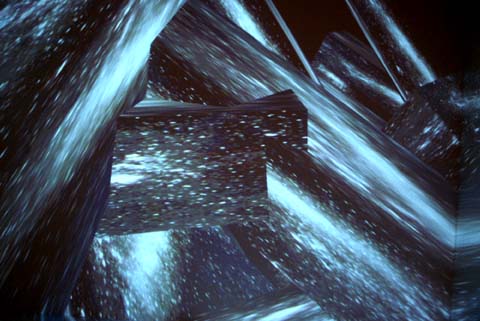 View from "Brainsongs - "Space World"

Our brain is continuously renewing itself, through neurogenesis
and synaptogenesis, during our entire lifetime.
The parts which are particularly active and thus in a constant mode
of creativity are: the prefrontal region, which controls executive
decision making and shortterm memory; the inferior temporal region,
which plays a crucial role in the visual recognition of patterns
(objects, faces) and the posterior parietal region, which is important
for our orientation in a space.
All these qualities are fundamental for our daily life and the way we relate
to the world around us - and also particularly interesting when we enter
the realms of Virtual Reality, where we are being introduced to .
a whole new set of rules.

Sound illustration by Jean Skarstedt and Dominique Plaza.
Special thanks to Martin Ingvar

The work BRAINSONGS was presented at the Intercommunication
Center ICC Tokyo in 2002 and at the Royal Institute of Technology KTH
Stockholm in 2002 and 2004
S O F T F A C T O R Y 2009-2010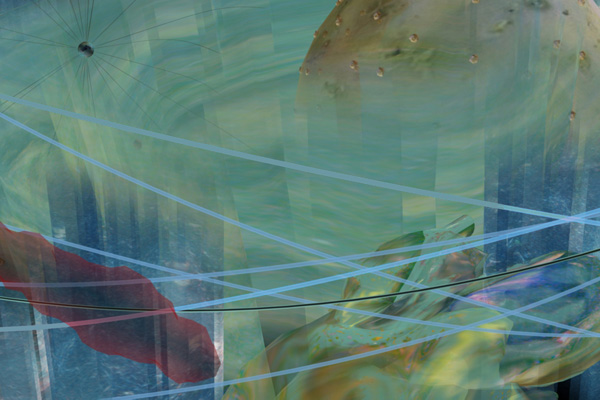 The human cell is still a mystery to usin many ways.
We cannot see it with the naked eye, only with
the help of powerful microscopes.
This Virtual Reality presents an imaginary inside
inside of a human eukaryotic cell, enlarged about
300.000 times to become a gigantic
space in which we can move around and imagine
what the interior and the various
organelles could look like, were we very very tiny...
Sound by Naoki Tate.

The work SOFT FACTORY was constructed at KTH Stockholm and
at the Medialab of Aalborg University Denmark 2008-2009.
Inaugurated at the MediaLab at Aalborg University in 2010.
Special thanks to
Professors Bjorn Obrink and Anders Zetterberg
of Karolinska Institutet KI Stockholm
The Center for Parallel Computers, PDC KTH Stockholm
The Institute for Media Technology at Aalborg University Denmark
Tree C Technology B.V., The Netherlands
WITH SUPPORT FROM KONSTNARSNAMNDEN/
THE ARTS GRANTS COMMITTEE SWEDEN
M I N D C A T H E D R A L 2018 --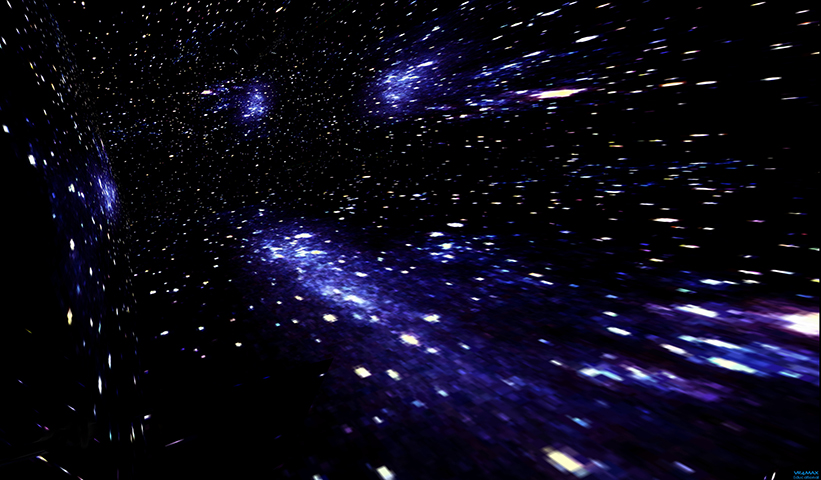 Based on "Space World" from the VR piece "Brainsongs"
this version has been enlarged about 500 times,
creating an experience of a gigantic universe
where our normal concept of time, space and gravity are put to a test.

MIND CATHEDRAL has been developed for portable VR eyewear.
Special thanks to:

Hanna Wikborg och Eric Olofsson
Gert Svensson PDC KTH
Tree C Technology B.V., The Netherlands
VIC Lab KTH

FRONT PAGE
All images and texts on this site are protected by copyright and may not be reproduced without permission.ęTW